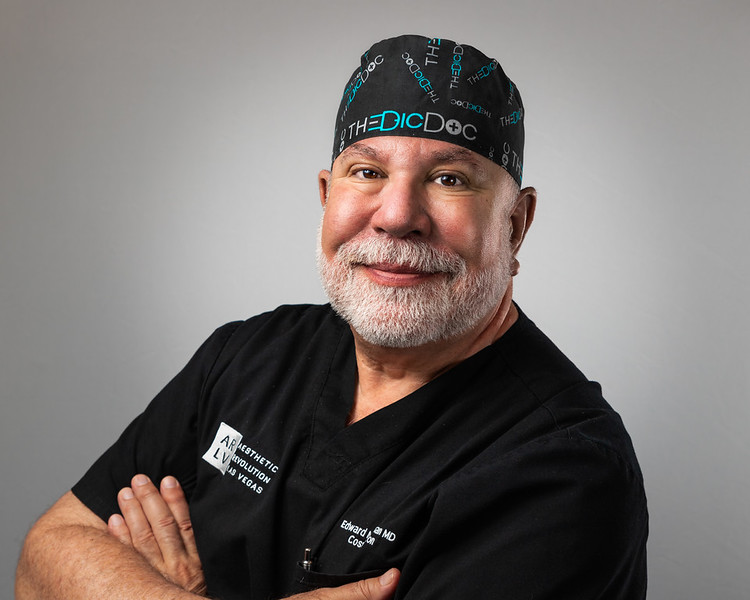 MEET DR. ZIMMERMAN
Edward M. Zimmerman, M.D. specializes in cosmetic surgery and aesthetic wellness for the face, body, and skin in Las Vegas, NV. He is also the owner and director of Aesthetic Revolution Las Vegas (formerly Las Vegas Laser & Lipo), which offers a wide variety of surgical and nonsurgical procedures for men and women. Dr. Z is a pioneer in laser technology and treatments and introduced the first outpatient CO2 laser to Western PA. He is nationally and internationally known for his work, lectures, and written contributions to the field of cosmetic lasers. In addition, he has earned numerous awards, including the "Patient's Choice Award 2018" and "Top 10 Doctor" for the city, state, and metro area by Vitals. Dr. Z is passionate about what he does and loves helping his patients attain the aesthetic they've always dreamed of through personalized cosmetic care.
SKILLS AND SPECIALTIES
As a seasoned cosmetic professional, Dr. Z continually researches techniques and technologies to raise the bar and lower the risk of cosmetic procedures. He is skilled in performing simple and comprehensive procedures for the face, breasts, body, and skin. His niche is cosmetic lasers, light-based technologies, and radiofrequency devices, and bundling them together to optimize outcomes and reduce risk and recovery time. He is known for his energy-based (RF and Renuvion) lipo sculpting, skin resurfacing, tattoo removal, cellulite treatments (Qwo and Acoustic Shock Wave Therapy), and male and female rejuvenation.
His analysis and finesse of facial rejuvenation treatments and dermal fillers, like Bellafill, Radiesse, and Versa make him a sought-after practitioner and educator.
EDUCATION AND TRAINING
Dr. Zimmerman graduated with departmental honors in biology from The Johns Hopkins University and has a master's in physiology from Georgetown University. He received his medical degree from The George Washington University School of Medicine and Health Sciences, after which he completed a three-year residency in family medicine in Beaver, PA with a heavy emphasis on surgical procedures, emergency room, and urgent care medicine.
PROFESSIONAL MEMBERSHIPS
Dr. Zimmerman has been a Fellow of the American Society of Laser Medicine and Surgery since 1994; the American and European Academies of Cosmetic Surgery; the American Society of Liposuction Surgery; the American Society of Cosmetic Laser Surgery; he is a previous member of the American College of Phlebology.
Dr. Z is currently serving as President of the American Board of Laser Surgery and is an Examiner for that board. He has served on the Board of Trustees and Membership Committee for the American Academy of Cosmetic Surgery, been active with the California Academy of Cosmetic Surgery, and serves on the Board of Trustees and is Treasurer of the Cosmetic Surgery Foundation-a charitable organization devoted to research, education, and safety in Cosmetic Surgery.
AWARDS AND RECOGNITION
Dr. Zimmerman has received the prestigious award for Academic Excellence in Cosmetic Surgery Education from the American Academy of Cosmetic Surgery. He received the "Best of Las Vegas Cosmetic Surgery" award for 2009 and America's Top Surgeons-2010, 2012, and 2014 by the Consumer's Research Council of America. He was awarded the 2011 and 2012 Leading Physician of the World and Top Cosmetic Surgeon in Las Vegas, NV. He was voted Silver State "Best Cosmetic Surgeon" in 2013 and 2014.
PUBLICATIONS AND LEADERSHIP
Dr. Zimmerman is currently a faculty member of the Touro University School of Osteopathic Medicine. He has lectured nationally and internationally for nearly three decades, published articles and chapters on the use of lasers, light, and toxins, is a co-author of the comprehensive Study Guide of the American Board of Laser Surgery, and he has hosted hundreds of physicians for preceptorships in the state-of-the-art office that he helped design. He is a life-long student, teacher, and innovator with a passion for cosmetic surgery.
2 EDWARD M. ZIMMERMAN, M.D. VIDEOS
REVIEWS
"I recently visited for fillers on my cheekbone and jawline (Radiesse Plus), as well as some wrinkle relaxer (Xeomin). The process took a little longer than I had expected but the injector was well versed in her practice and very gentle with me. I am very happy with the results. There was a little bruising which is normal with deeper fillers, but from day 1 it was a great improvement. Never thought that just a couple syringes (ok ok like 4 Radiesse, 1 Xeomin) could make such a difference in how I see myself and how others do as well. Highly recommend."
M.J.
Google
REVIEWS
"I Loved my experience with Dr. Zimmerman. Awesome Doctor and Nurses. I Loved Monica and Dr Zimmerman!! Good results from laser treatment I had done on a Veinous Lake removal. I Love You All and will return for more work on bettering my looks.Stay Safe and Stay Strong!! *****"
T.D.
Google
REVIEWS
"Loved the staff...great family there. Thank you Dr. Lee for a great consultation with all honesty and understanding."
L.M.
Google
REVIEWS
"I've been self conscious about my nose and side profile since I was a child. By far my biggest insecurity. I went to Dr. Zimmerman for a liquid nose job and everything exceeded my expectations. He and the staff are so very nice and make you feel so comfortable. I cried when I saw my results, because I was so happy! I will continue to go here and could not be happier with my entire experience."
J.W.
Google
REVIEWS
"The staff are super nice and knowledgeable. No long wait and the office is very clean. They have all of the state of the art equipment not to mention top rated Surgeon Dr.Z... he is Vegas's BEST! Guys I cant say enough about this place, I am so pleased with my results, I look 10 years younger than I am"
C.G.
Google
*Individual results are not guaranteed and may vary from person to person. Images may contain models.

Edward M. Zimmerman, M.D. is a world-renowned cosmetic professional with years of experience who offers outstanding aesthetic care to men and women.
9130 W Post Road
Suite 100
Las Vegas, NV 89148
Phone: 702-360-6686