Injectable neurotoxins are highly effective when it comes to reducing dynamic wrinkles or folds caused by muscle movement. Medical aesthetics professionals commonly use these treatments to address the visible signs of aging on the face. At Aesthetic Revolution Las Vegas, we offer three of the top neuromodulators in the industry: Botox Cosmetic®, Dysport®, and Xeomin®.
Injectable neurotoxins such as Botox Cosmetic®, Dysport®, and Xeomin® contain small amounts of botulinum toxin. These substances work by temporarily minimizing the ability of the muscles to contract, thus softening and relaxing dynamic wrinkles.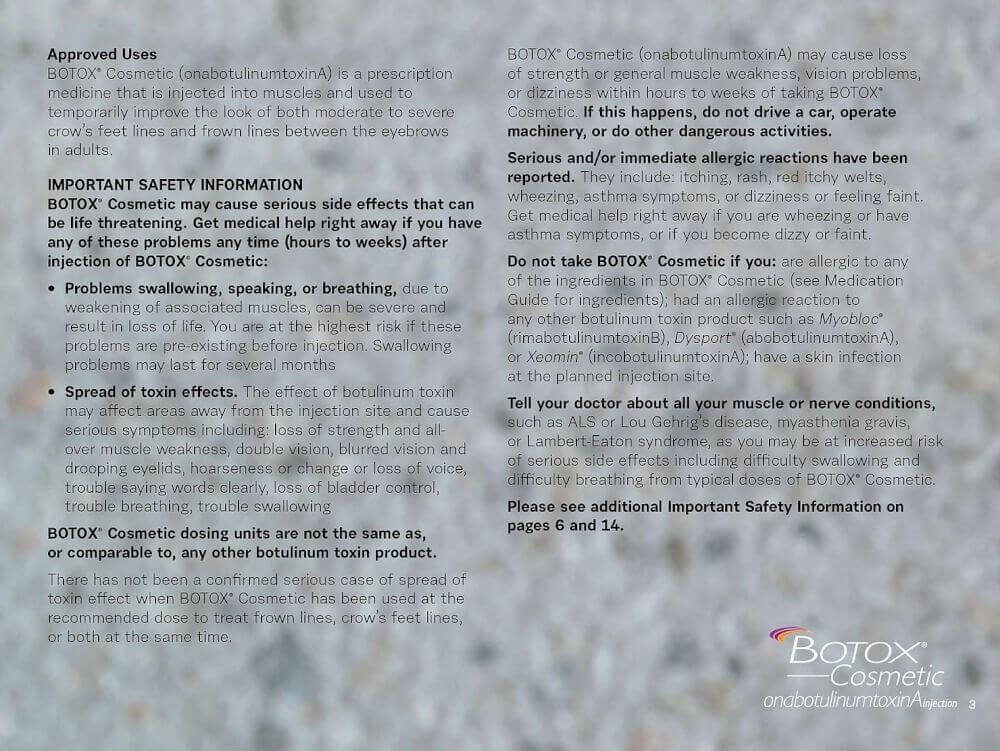 Dynamic wrinkles are lines and folds that form on our faces when we make facial expressions. These wrinkles appear when we raise our eyebrows, frown, smile, or scrunch our muscles. Muscle movement can partially cause lip lines.
People have used these toxins for a long time to treat different cosmetic and medical issues, and they have many uses. In addition to addressing wrinkles, they can also be used for treating glabellar lines (commonly referred to as the "11" lines between the brows), crow's feet, forehead lines, lip lines, wrinkled chins, neck bands; and excessive sweating in areas such as the armpits, hands, and feet. They have also been used in numerous medical applications, ranging from treating headaches to conditions like cerebral palsy.
Choose Aesthetic Revolution Las Vegas for neurotoxin treatments. Dr. Z, with vast experience, will provide expert care and guidance.
Dr. Z wrote two chapters on Toxins and often talks about them at peer-reviewed meetings. Aesthetic Revolution Las Vegas is a great option for your treatment. They have a skilled person who knows how to inject and choose the right neurotoxin for your aesthetic needs.
The treatment administers small injections to the areas where wrinkles and muscle movement occur. These injections are quick and typically take only a few minutes to complete.
We may use topical anesthesia and ice or cold air to ensure your comfort during the procedure. After the injections, you can expect the results to become visible within approximately one week. The effects of the treatment usually last between 3 to 6 months for most patients.
For deep skin folds, we may suggest using both dermal fillers and neuromodulators together as a treatment option. This approach can provide even better and longer-lasting facial rejuvenation results.
At Aesthetic Revolution Las Vegas, we understand that each individual has unique needs and aesthetic goals. That is why we take the time to listen to your concerns and understand your desired outcomes. We believe in a personalized approach to treatment, tailoring our plans to suit your specific needs and preferences.
During your initial consultation, our team will conduct a thorough assessment of your facial structure, skin condition, and overall health. We assess your needs and create a personalized treatment plan to address your concerns and help you achieve your goals. We can help you achieve your goals by reducing wrinkles, smoothing fine lines, and enhancing facial features. We will work closely with you to create a personalized plan.
Our skilled practitioners will carefully administer the injectable neurotoxin with expertise and precision during the treatment. We make sure you feel comfortable and safe during the process, keeping you informed and relaxed at every step. Our team will also provide you with detailed aftercare instructions to optimize your results and minimize any potential side effects.
At Aesthetic Revolution Las Vegas, we are committed to delivering exceptional results and helping you achieve your aesthetic goals. Our dedication to excellence, personalized approach, and expert care make us the ideal choice for injectable neurotoxin treatments. Get treated by a team that understands your needs and wants to help you look and feel your best.
* All information subject to change. Images may contain models. Individual results are not guaranteed and may vary.